We offer our clients a wide array of Fixed Ventilators. These Fixed Ventilators finds its wide applications in commercial as well as domestics establishment.
A louver or louvre is a window blind or shutter with horizontal slats that are angled to admit light and air, but to keep out rain and direct sunshine. The angle of the slats may be adjustable, usually in blinds and windows, or fixed.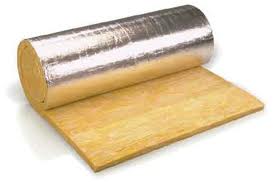 Insulation is typically fiberglass blanket of stable and uniformly textured inorganic glass fiber bonded together by a non-water soluble and fire retardant thermosetting resin.
READ MORE
Fiberglass is a common type of fiber-reinforced plastic using glass fiber. The fibers may be randomly arranged, flattened into a sheet or woven into a fabric. The plastic matrix may be a thermoset polymer matrix—most often based on thermosetting polymers.
We offer high quality Ridge Vent which is used in industrial buildings. Under the guidance of skilled professional, the offered range is stringently tested against various quality parameters to ensure its flawlessness.
READ MORE
A ridge vent is a type of vent installed at the peak of a sloped roof which allows warm, humid air to escape a building's attic. Ridge vents are most common on shingled residential buildings
We offer a wide range of Roll up Doors, used in industrial and commercial purposes. These are made using premium quality mild steel. We offer these in various sizes as required by the clients.
READ MORE
Steel roll up doors are engineered to secure commercial and industrial buildings against unauthorized entry. Steel roll up doors are manufactured with various gauges of metal that form a curtain of interlocking slats that coil up above the opening for minimal storage space.
Turbo ventilators are designed and engineered to exhaust Industrial pollutants such as smoke, dust, poisonous gases, humidity, fumes, heat and many more invisible irritants from the covered area.
READ MORE
Turbine ventilators are round metal vents with fins in them. Even just a little bit of wind can be just enough for the turbo ventilator to rotate. The faster the wind, the faster the turbine will rotate and exhaust the heat, smoke, fumes, humidity, etc.
We also offer Pre Engineering building Accessories, which are reckoned for precise dimensions and exceptional finish.
READ MORE
A general term to describe buildings and other physical structures. The art and science of designing buildings and (some) nonbuilding structures. The style of design and method of construction of buildings and other physical structures.